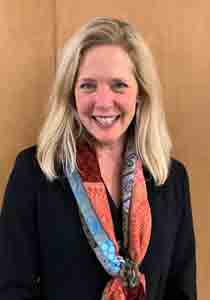 We became members of Memorial Episcopal Church in Bolton Hill.  The rector, Barney Farnham welcomed us into our new church community.  I was confirmed at that church and became involved in the youth group (as a youth then as a leader) as well as the Sunday school.  I was married at Memorial and both my daughters were baptized there. 
When we moved to Lutherville, we decided to enroll our oldest in the Sunday school and find out more about the Church of the Holy Comforter.  Growing up, I was always in awe of the beautiful chapel on the corner so I was excited to get to know the rest of what the church offered.  Janice and others welcomed us into our new church family.  My daughters attended Sunday school, youth group and were confirmed at CHC.  My youngest daughter served on the vestry as the youth representative. 
Over the 20+ years since we first joined CHC, I have taught Sunday school, co-led two different youth groups, ushered and hosted coffee hour.  Currently, I open the church once per month. 
For several years now, I have attended the 8:00am service in that same chapel I admired while growing up.  The community has been an important part of our lives as Episcopalians.  CHC has been a warm and welcoming spiritual home for my family and me. 
I am married to Peter who attends the 8:00am service with me on Sunday mornings.  We have been married for 31 years and have two daughters, Addie and Mallan.  Our oldest, Addie, has settled in the area and our youngest, Mallan, is finishing up graduate school.
I have been in education in a variety of positions for 34 years.  I am currently the proud principal of Red Pump elementary school in Harford County. 
I am honored to have been appointed and look forward to continuing my spiritual journey serving on the Vestry. 
---