"For where your treasure is, there your heart will be also."
~Matthew 6:21
Dear Brothers and Sisters,
Every year on Ash Wednesday we are invited to observe a Holy Lent "by self examination and repentance, by prayer, fasting and self-denial, and by reading and meditating on God's holy Word." Many of these we do on our own, but we also try to communally experience the Lenten journey: prayer, meditation, fasting and study.
Our Lenten studies have in the past touched on many different facets of God's Holy word - and most importantly how God's Holy Word continues to resonate for us all. We have studied the Ancient Creeds and their place today, talked about how we worshiped in the past and still worship today understanding how we have separated ourselves from God.  we have viewed art and how it provides a different dimension to our faith. This year - we look at a source of popular entertainment and what its intersection is with our faith- we will look through the eyes, or maybe better put, the lenses of film.
Lenten Movies
All Conversations Begin at 7 p.m.
Tuesday, February 23 - Groundhog Day
Tuesday, March 2 - The Family Man
Tuesday, March 9 - Chocolat
Tuesday, March 16 - Powder
Tuesday, March 23 - Defending Your Life   
Join us each Tuesday evening at 7 p.m. to discuss the movie of the week. We will start the conversation as one group and then break off into smaller groups to explore different dimensions in each of these films. Where do the characters lose or find their faith? How do you connect with the character, the setting, the situation? Does this inspire you in any way? 
This week we will begin with Bull Murray's famous comedy - Groundhog Day. As I have mentioned before, this entire year feels a little bit like that movie. But there are many deep themes which run through this film as well. Take a watch, have a laugh and then come and have some conversation.
Groundhog Day is available for streaming on AMC and Comcast On Demand. The film can also be rented on many streaming services including Amazon Prime, YouTube, Apple TV, and others.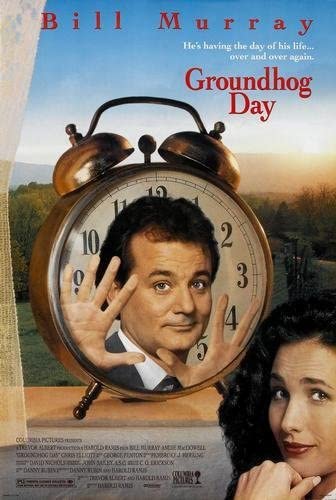 Each Tuesday evening will end with an abbreviated compline. Compline will begin at 8Pm and will end by 8:15PM. You are invited to come for any or all of these Lenten sessions. If you only want to attend Compline, please log in at 8PM.
I hope you will join us as we venture through Lent and these films and explore another dimension to our faith.
Be safe. Be well. Be at peace.
Chris+
"God of the present moment, God who in Jesus stills the storm and soothes the frantic heart; bring hope and courage to all who wait or work in uncertainty. Bring hope that you will make them the equal of whatever lies ahead. Bring them courage to endure what cannot be avoided, for your will is health and wholeness; you are God, and we need you."
-A New Zealand Prayer Book—He Karakia Mihinare o Aotearoa' (adapted)
If you would like to support Holy Comforter in this or any of our missions, please consider making a gift. Click here to see more.